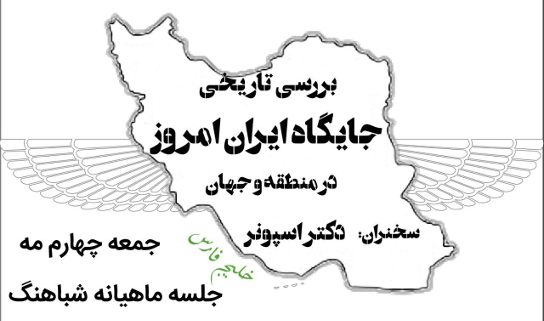 May 2018 Program
Time: Friday, May 4th, 2018 at 7:00 pm
Location: Lawrence Hall
Rosemont College
1400 Montgomery Avenue
Rosemont, PA 19010
Shabahang's annual meeting (7-8 pm for member only): The Board's report to the membership and
the election for the vacant seats on the Board of Trustees will be held on
General admission (Open to Public) 8 pm
Poetry session
Lecture by Dr. Brian Spooner
"Iran Today: its place in the Middle East and the World, in historical perspective" 
(This speech will be in English)
Break for tea & socializing for 20 minutes
Music:
Setar: Dr. Shayegan
Zarb: Mr. Ghaderi
Recital: Dr. Rahnama
Dr. Brian Spooner is Professor of Anthropology and Museum Curator for Near Eastern Ethnology at the University of Pennsylvania. His degrees are from Oxford (U.K.), and besides his work in Iran from 1958 to 1979 he has conducted ethnographic research in Afghanistan, India, Pakistan, and Tajikistan. He is author or editor of 11 books and 100 articles and book chapters on subjects relating to the anthropology and languages of the Middle East and to globalization.
Books and Monographs (some of the books will be available at the meeting to purchase) 
1972 (edited) Population Growth: Anthropological Implications. Cambridge: MIT Press.
1973 The Cultural Ecology of Pastoral Nomads. Addison-Wesley Modular Publication #45. Reading, Mass.: Addison-Wesley.
1980 (edited with Lee Horne) Cultural and Ecological Perspectives from the Turan Program, Iran. Expedition 22/4 (special issue).
1982 (edited with H.S.Mann) Desertification and Development: Dryland ecology in social perspective. London: Academic Press.
1984 Ecology in Development. A Rationale for Three-Dimensional Policy. Tokyo: United Nations University.
1986 (edited with the introduction and one chapter) Developing World: Challenges and Opportunities. In Rangelands: a resource under siege, Proceedings of the Second International Rangeland Congress, edited by P.J.Ross, P.W.Lynch, O.B.Williams, Canberra: Australian Academy of Science, pp. 471-500.
1995 (with William L. Hanaway), Reading Nasta'liq: Persian and Urdu Hands from 1500 to the present. Mazda Publications, Costa Mesa, CA: Mazda Publications, 2nd revised edition 2007.
2012a Literacy in the Persianate World: Writing and the Social Order, edited by Brian Spooner and William L. Hanaway, Museum Publications, Philadelphia: University of Pennsylvanian Press.
2012b Language Policy and Language Conflict in Afghanistan and its Neighbors: The Changing Politics of Language Choice, edited by Harold Schiffman and Brian Spooner, Leiden: Brill.
2013 Investment and Translocality, Recontextualizing the Baloch in Islamic and Global History, in Crossroads Asia Working Paper Series, No. 14, Berlin.
https://www.academia.edu/15795701/Investment_and_Translocality._Recontextualizing_the_Baloch_ in_Islamic_and_Global_History
2015 Globalization, The Crucial Phase: Understanding and working with world urbanization (edited), Penn Museum Publications, Philadelphia: University of Pennsylvania Press.
2017 The Pursuit of Human Well-being, The Untold Global History, edited by Richard J. Estes and M. Joseph Sirgy, International Handbooks of Quality-of-Life, Cham: Springer (for which I was a consultant and a member of the Editorial Review Board).