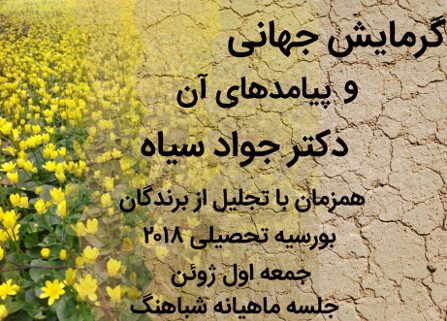 Shabahang's annual meeting (7-8 pm for member only): The Board's report to the membership and election for the vacant seats on the Board of Trustees will be held on
General admission (Open to Public) 8 pm
Poetry session: For poetry recitation, please contact Dr. Hoora Shaghaghi at: 267-239-1358
Lecture by Dr. Javad Siah
" Global Warming & the Consequences "
In this talk, the emphasis would be on the physics, the scientific facts and the major causes of this phenomenon. The subject would be discussed from the point of view of an astrophysicist and without the politics and the prejudices which surround this important issue of our time.
Javad Siah completed his undergraduate and master studies in physics at Shiraz, formerly Pahlavi University in Shiraz and his doctoral work in the field of astrophysics at the University of Pennsylvania. His research activities and interests are in the field of observation and analysis of the light curves of binary star systems, active galactic nuclei (AGNs), extra- galactic accretion discs and jets, and the role of magnetic fields in the formations of stars. His early research work on the stellar system Cygnus X-1, and based on the observations made at Biruni
observatory and under the guidance of his teachers at Pahlavi university was one of the earliest works on the prediction of the existence of a black hole in a galactic binary system.
Javad teaches and does research at Villanova University.
Break for tea & socializing for 20 minutes
6th Annual Scholarship Distributions by Dr. Dadparvar (open to the public)