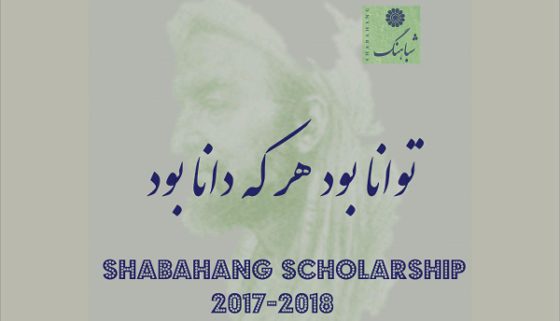 6th Annual Scholarship- Academic Year 2017-2018
The Iranian Cultural Society of America- Shabahang is offering scholarships to Iranian, Iranian- American, or students with Iranian heritage in the Tri-State area:
Pennsylvania, New Jersey & Delaware
Three Scholarship Funds are available one for $1000 & two $500 each to three full-time students: undergraduate, graduate or professional degrees; Iranian, Iranian- American, or students with Iranian heritage in the Tri-State area.
Two merits Scholarship are also available each for $150 dollars to Iranian, Iranian- American High School students in the Tri-State area:
Deadline for submission is extended to 

April 25
We encourage all eligible applicants to apply for the scholarships before the deadline by completing and submitting the application to Shabahang's address
The awards will be presented to the winners at Shabahang's June 1st, 2018 monthly program.
Please mail your application to
Shabahang
P.O.Box 148
Gladwyne, PA 19035
Please find the attached forms for more information.
ScholarshipForm (Young Iranians 2018 (3)

ScholarshipForm (Young Iranians 2018 (4)