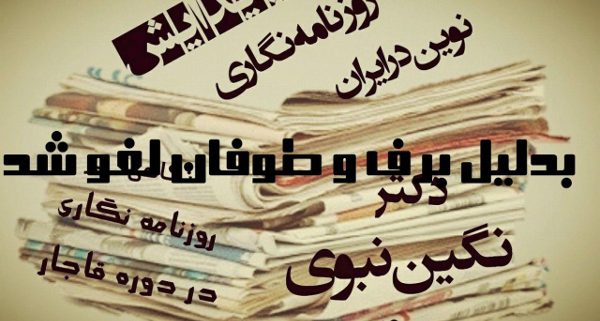 PLEASE NOTE!!!
The March monthly program has been CANCELED DUE TO inclement WEATHER!!
March 2018 Program
Time: Friday, March 2, 2018 at 8:00 pm
Open to Public
Poetry session: For poetry recitation, please contact Dr. Hoora Shaghaghi at: (215) 429-3090
Lecture by Dr. Negin Nabavi: "Newspapers and newspaper culture in Qajar Iran" (in English)
Dr. Negin Nabavi completed her undergraduate, master and PHD at Oxford University.
She is currently associate professor in the history department at Montclair State
University. She has taught at Princeton University, New York University, and the
University of Maryland. She has published a number of articles as well as the
books, Intellectuals and the State in Iran: Politics, Discourse, and the Dilemma of
Authenticity (2003); Intellectual Trends in Twentieth Century Iran (2003) (ed.); Modern
Iran: A History in Documents (2016).
Break for tea & socializing
Music:
Guitar: Hessam Toroghi
             Frid Ghanbari
Cajón: Mohsen Khosravi